Horse Racing - Betting Online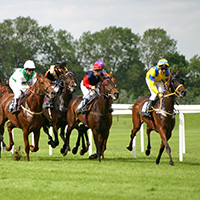 Betting on horse racing is one of the oldest and most appreciated forms of gambling. The history and the legacy behind the sport are quite positively overbearing. Needless to say, horse racing takes up a prime position in the offerings of most live and online bookmakers. There are periodic festivals, like the Cheltenham festival, during which wagering on the horses pretty much explodes. The amount of money changing hands during such events quite possible dwarfs the budget of a tiny country. The stakes are high indeed and the skills involved in betting on horse racing are undeniable. There are a wide variety of bets available, and when it comes to handicapping, the sky seems to be the limit.

Here are a few basic horse racing betting tips:

Keeping an eye on the tiers is quite possibly the most important handicapping concept. Hand picking the races is another important step to take, because regardless of how great a handicapper one is, betting on every race is something that cannot be pulled off profitably.The importance of the workout in overall handicapping is a factor that cannot be stressed enough. The track on which races are run is another huge variable. First, one needs to look at whether it's turf or dirt we're talking about. Then, the actual condition of the track is also something to consider.Other major handicapping factors are class dropdowns and layoffs. Medication change is also among these factors, and it is one that few beginners ever even realize it exists.

Last, but certainly not least, there's the issue of the jockey. Some gamblers are keen on betting the jockey instead of the horse, which is generally a mistake, despite the fact that some jockeys do indeed seem to have much better winning percentages than others. Going down this way is a potentially erroneous shortcut though as the popular jockeys usually get the best mounts, so at the end of the day, it's still all about the horse.



Sports Betting Guide