Rugby Betting Online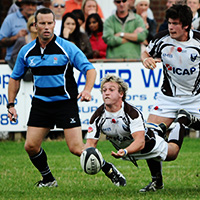 Although not exactly popular in the US, rugby is a sport of great tradition and one enjoying a massive following in other parts of the world. England, Australia, France, South Africa and New Zealand are traditional rugby powerhouses and obviously, rugby betting is right at home in most of these countries too. The great thing about online sports betting is though that one doesn't have to live in any of the above said countries to wager on rugby.

As far as game mechanics are concerned, those familiar with American Football will have no trouble understanding and relating to rugby rules. A rough and tumble sport, rugby is a lot like American Football indeed, only rugby players don't wear any padding and the action tends to be a tad slower.

How does one place a bet on a rugby match though? Those who have their bookmakers in countries where the sport is popular can obviously place their wagers with them, but the most straightforward way for everyone to get a bit of rugby action is to wager online. Most major sportsbooks feature odds on rugby games and they accept a whole range of various bets on games. While betting on the winner is obviously the most popular option when it comes to rugby betting too, those who wager at a decent online bookmaker will be able to bet on the entire season, on individual players, on the over/under and various other types of bets.

While spread betting is available on rugby games here and there, the odds are mostly given in a fractal format, which is simple enough, but which may give a few problems to US bettors.

As far as handicapping goes, rugby is just as intricate as soccer betting or American football betting. One has to consider a myriad of factors, among which weather is a major deal-breaker.

Sports Betting Guide