Casino Table Game | 3D Roulette

3D Roulette
There is not much difference between 3D Roulette and the other roulette games available except for the three dimensional graphic presentation. This sets it slightly apart from the other versions of this classic casino game.

3D Roulette is closer to the French version of roulette as it has only one '0' grove and not the two '00' grove which doubles the bet.

The Bonus in this version allows players to make a couple of extra types of bets such as the Voisins Du 0, which means Neighbours of 0, and the Tiers Du Cylinder, meaning Cylinder Thirds.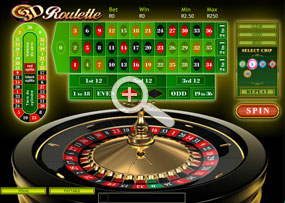 Popular Table Games