Casino Table Game | Double Double Bonus Poker

Double Double Bonus Poker
In this version of the Video Poker game, certain "4-of-a-kind" pay-outs depend on the "Kicker" which is the 5th card.

Somewhat different to other variations of the game; this version raised the pay-out even more for "4-of-a-kind" hands. It also counts the "kicker" card, even if it was a low card the pay-out would still be doubled. If the "4-of-a-kind" cards are low and the "Kicker" card is high, pay-outs are also relatively high.

Lower pay-outs are given for the frequently hit winning hands therefore still allowing for higher pay-outs at the top of the table. However with success comes the chance of failure, and it is a risk one would have to take as higher "4-of-a-kind" pay-outs are equalised against lower Straight, Flush and Full House hands.

If Double Double Bonus is a favourite of yours be sure to use a 10/6 version which offers more than 100% payback.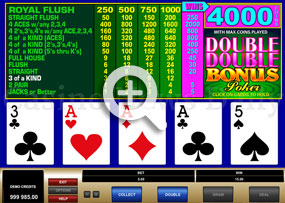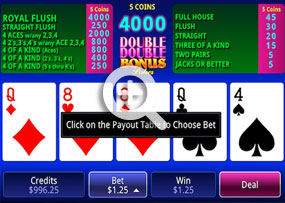 Play now at Casino.com


Popular Table Games