Casino Table Game | Double Decker Blackjack

Double Decker Blackjack
Double Decker Blackjack is a rudimentary card game with simple features consisting of two regular card decks and a very basic set of rules that makes it easy for anyone to play. Players who have enjoyed other games such as European and Vegas Blackjack will feel very much at home with Double Deck Blackjack as they are all very similar and are played almost the same way.

Once you have downloaded Double Deck Blackjack you will be able to choose and set your betting limits to suit your personal preference. Whether you are a High or a Low-Roller you will have the option to play at various table limits such as $500-$5000, $100-$1000, $25-$50 or even $10-$200.

Some features have been added to make game play easier and more pleasant, these include:
Regardless of what your minimum bet is, if it falls under the required minimum bet it will automatically be changed to the minimum bet-should you have enough chips. This way no game interruptions will transpire due to minor technicalities. The Yes/No to All feature for insurance allows you to tell the dealer whether or not to ask for insurance or you can simply decline/accept every hand at once.

Basic Blackjack rules apply for Double Blackjack and are as such:
As the dealer only receives their second card after you have made your play on all your cards - no peeking is allowed.

Only one split is allowed- for exact pairs only.

No point-total restrictions on double downs.

The dealer will stand on all soft 17's.
Ensure that you read the "Help" section for more information regarding rules and other special features the game has to offer.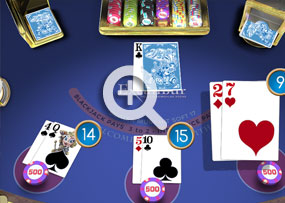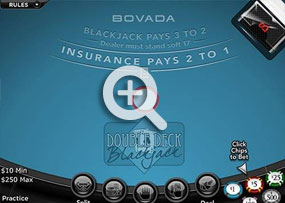 Popular Table Games