Casino Table Game | Atlantic City Blackjack

Atlantic City Blackjack
Atlantic City Blackjack is played with 8 decks of cards and up to 5 hands can be played by gamblers. The aim is for players to get 21 with a table limit starting at $100 going up to $2 000 which makes it a rather exciting game. This game is ideal for high rollers.

In this version of Atlantic City Blackjack, the American rules apply which are that the Dealer will stand on 17. Even in Blackjack, ties are always a push, Double downs are always unrestricted, and may occur after one split. Splitting is only allowed once, and is available to the same value cards, such as 10 of Spades and King of Hearts. Split Aces will receive only one card and then forced to stand. There is no surrender and gamblers may not hit on a 21. The deck is shuffled after each game.

Atlantic City Blackjack is rather simple and for players that would like extra information on the game there is a site available that players can log onto. The play can be customized to suit each players' level of skill, risks involved and a timetable.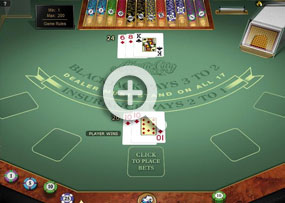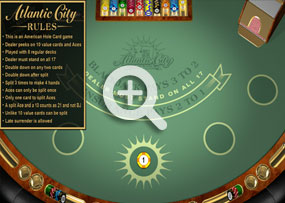 Play now at Springbok Casino


Popular Table Games