Casino Table Game | Blackjack - Pontoon

Blackjack - Pontoon
Pontoon Blackjack also referred to as the British version of Blackjack, adds some interesting features which make the game very exciting. One of these interesting features is that the initial cards dealt to players are face down.

Another interesting point worth noting is that Blackjack Pontoon uses it's own vocabulary of terms such as to "Twist" means to "Hit" and to "Stick" means to "Stand". The game can be played with a minimum of two players up to a maximum of eight players and utilises 8 decks of cards.

Some of the terms used in Pontoon are:

· Pontoon: A total of 21 which is formed by 2 cards(the strongest hand) - an Ace plus a 10-J-Q-K.
· 5 Card Trick: A total of 21 or less consisting of 5 cards(the next strongest hand after the Pontoon).
· Bust: A hand which exceeds a total of 21.

If you are looking for a bit more of a challenge and variation to your normal game of Blackjack then Pontoon is the game for you.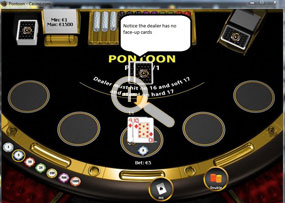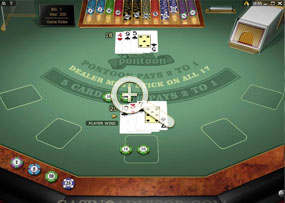 Popular Table Games